The Colours a Massa Carrara
Gianfranco Gioia
Pubblicato in

News

· 7 Aprile 2019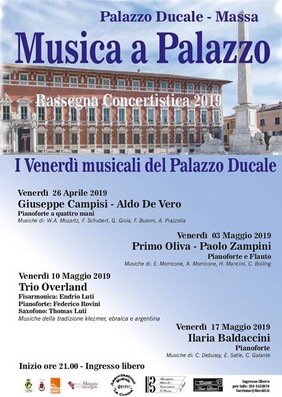 Nuova esecuzione di "The Colours" per pianoforte a 4 mani del duo pianistico Campisi - de Vero. Il brano verrà eseguito il prossimo 26 aprile nell'ambito della rassegna concertistica "Musica a Palazzo" presso il palazzo ducale di Massa Carrara.
New performance of "The Colours" for piano 4 hands by Campisi - de Vero piano duo. It will be performed on next
April
26th at the "Palazzo Ducale" in Massa Carrara.