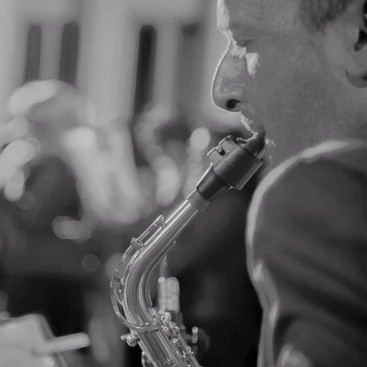 I was born in Palermo in 1971. I graduated in Clarinet at the Conservatory of Music "Vincenzo Bellini" of Palermo and in Saxophone at the Conservatory of Music "Arcangelo Corelli" of Messina. I also attended courses of Composition, Choral Music and Choirmaster.
I started the concert activity in 1984 with the quartet "Clarinette Ensemble" with whom for almost a decade I have been playing numerous performances carrying out some recordings for the Italian "Rai Radio Televisione". For many years I have been the first Clarinet of the Philharmonic Orchestra "Franco Ferrara" (of which he was a foundation member) and of the "Chamber Orchestra" of Palermo. As clarinetist, saxophonist and composer I worked together with the "Orchestra Musica Contemporanea".
In 1995 on behalf of the "BRASS Group" I participated as a clarinetist at the exclusive Italian concert of the European tour of the American composer Michael Torke conducted by David Alan Miller performing the first première of "Flint"; for "BRASS Group" with the soloist Paolo Fresu, conducted by Gunter Schuller, I played the first performance of the opera "Porgy and Bess" by George Gershwin in the recovered version of Gil Evans for Miles Davis. Occasionally I play as a clarinetist with the "Sicilian Symphonic Orchestra" with whom in 1994 for the "Orestiadi" of Gibellina I carried out the first performance in Sicily of Philip Glass "Low Symphony".
I work as clarinetist and saxophonist, as composer, conductor and choirmaster: some of my works have been performed in various musical events for numerous associations and musical boards (Teatés, Amici della Musica of Palermo, Rassegna di compositori siciliani di Catania, Festival barocco della Val di Noto). In 2003 I collaborated with the "Teatro Verdi" of Pisa orchestrating some music of the show which was not provided in the original version of Franz Lehár for the performances of the operetta "La Vedova Allegra".
My works have been required and performed by the "Orchestra Musica Contemporanea" of Palermo (Divertimento for Clarinet, Alto Saxophone and Strings, Dim Lights); the Trio Strabern (A Present for Three) which has performed this piece at the Conservatory of Rotterdam -Netherlands- in a concert organized by the Gaudeamus Fundation; the concert is recorded in a CD labeled O.M.C.; Duo Teriaca-Toscano (Mosaici); Duo Campisi-De Vero (The colours); Arcadia saxophone quartet (Quatuor Gothique, Tin Box, Sax & Company, Almost Tango, Souvenir d'Italie); Gianfranco Brundo (Parade, Suite for soprano sax and piano), Claudia Schaetzle (Sonata for soprano saxophone and organ); Conservatory of Music "A. Corelli" of Messina (Three Preludes on the Art of the Fugue); Duo Madera Dulce (Milonga y Danza). My work "Mirrors" for bass clarinet and electronic instruments will be included in the program of the three year specialization course Diploma of the International Accademia of bass clarinet of Pordenone. My pieces of music have been performed in numerous Italian cities like Milano, Torino, Napoli, Fermo, Lecco, Pordenone, Perugia, Santa Teresa di Gallura, Sorrento, Procida, Siracusa, Modica, Noto, Taormina, Catania, Messina, Agrigento, Palermo and in many foreign countries like Brazil, United States of America, Latvia, the Netherlands, Taiwan, Japan, France, Switzerland, United Kingdom, Portugal, Colombia, Slovakia, Germany and Russia.
Some of my compositions are published by Kelidon Edizioni Musicali of Palermo.
I was asked to write a piece of sacred music which was performed in December 2007 at the Cathedral of St. Nicholas Noto recently restored. The piece called "Psalms" was recorded during the performance.
In December 2016 I have been invited to hold a conference and a concert about my music for saxophone during the "Festival del Sassofono Italiano" at the Conservatorio di Musica "N. Piccinni" of Bari.
On November 2017, as guest of the Glazunov Conservatory of Petrozavodk (Russia), I took part as member of the jury at the International music competition as part of the festival "Sax". In this occasion, it was organized a concert with a program all based on my music where I conducted "psalms" and I held a conference for the students and for the competition participants.
During the academic year 2017/18 I ran a workshop about musical interpretation called "Meeting the author" at the ISSM "A. Toscanini" in Ribera (AG) and during the following academic year I was coordinator and conductor of "New musics for brass and percussions" workshop in Erasmus partnership with the Petrozavodsk A. Glazunov Conservatory.